The ThinkPad Twist is a convertible Ultrabook created by Lenovo that works on processors such as Intel Core i7 3517U [4MB L3 cache, 3 GHz and 1600 MHz FSB], Intel Core i5 3317U [3MB L3, 2.6 GHz and 1600 MHz FSB] and Intel Core i3 3217U [3MB L3 cache, 1.8GHz and 1600 MHz FSB]. It operates on Windows 8 system. The 12.5-inch HD display uses IPS technology with touch sensor and features 1366 x 768 screen resolution with 350 nits. It has a 720p HD Webcam. It uses Intel HD Graphics 4000 processor.
It uses a maximum of 8GB DDR3 with memory configured according to processor selected. Internal memory is not changeable by user. It has 7 hours of life authenticated with Battery Safeguard hardware. Hard disk drives available are 320GB/ 500GB [7200 RPM] and 500gb [5400 RPM]. Solid state drive is 128 GB. Dimensions are 12.3 x 9.3 x 0.8 inch. It weighs 1.58 kilos. It is spill-resistant. It has a touchpad and TrackPoint.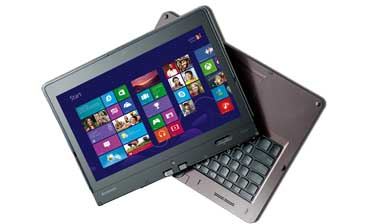 It provides two USB 3.0 ports, one RJ45, one 4-in-1 card slot, one mini DP, one mini HDMI, jack for stereo speakers, a combo jack for dual array microphone, Gigabit Ethernet, Dolby Home Theater version 4, Bluetooth 4.0 and WLAN a/b/g/n.
What makes ThinkPad Twist conveniently innovative? You can set up your Ultrabook in four modes depending on what you want to do. Work on it as your notebook so you can easily type your documents, edit your videos and photos or manage your spreadsheets. It provides you with a keyboard equipped with multiple touch touchpad and UltraNav TrackPoint so you can navigate and type more comfortably and easily. Handle it easily for your activities like Internet browsing, reading and gaming while you are on the go in tablet mode. You can use it as your media presenter for your own or for shared viewing in stand mode or tent mode. Convenience and functionality is provided in many ways in just one device.
How does it perform? It is powered by third-generation Intel Core processors for fast performance with increased productivity. Memory and storage has been enhanced and you can maximize the use with Windows 8 system and Lenovo Enhanced Experience 8. It features Lenovo-specific application that have been designed for Windows 8. Experience clear Internet calls using digital dual array microphones with optimized voice and keystroke noise suppression. Other enhancements include ambient noise cancellation, conference call mode and echo cancellation.


The HD multitouch touch screen offers comes with Dolby Home Theater version 4 for good quality sound with wide viewing angle. Lenovo Solutions for Small Business answers needs for IT maintenance such as energy saving, software monitoring, after-hour maintenance and security backups.
Lenovo Solution Center lets you access a control panel for information about your total system health. The hardware diagnostic tool lets you quickly check frequently used tools for system management such as restore and backup, firewall, antivirus, Internet connections, software and system updates, support and service.
Applications that are preloaded include Amazon Kindle, BlueStacks [Android app player], AccuWeather, Expense Management, Evernote, Lenovo Cloud Storage, Fruit Ninja, Rara Music, Skype and Microsoft Office [product key is required to activate].